Backyard Gardening CAN Be Simple!
Backyard gardening is back in style. Nothing tastes as good as home grown and cultivating your own tomatoes, peppers, basil, strawberries and many other garden goodies can be simple… and of course, healthy. We're here to share information we have gathered through the years in our own garden. Enjoy the journey with us!
Join us in our garden for a season full of successes, flowers, food and a LOT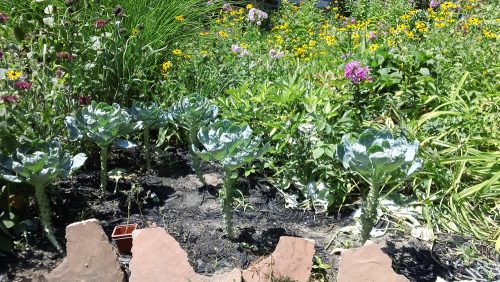 of "dirt therapy"! If you are looking for simple, healthy backyard gardening on a budget, you found the right place. We will share tips on simple gardening techniques including:
Organic Vegetable Gardening

Container Herbs & Veggies
Raised Bed Ideas
Urban Gardening
Community Gardens
Summer Time Garden Goodies
What's growing in YOUR garden? Summer time brings yummy tastes for the tummy like fresh zucchini, peppers, and of course – those vine-ripened tomatoes nothing can compare to! We tucked a few tomatoes into pots for a little "camouflage" (left). Brussels sprouts make a nice addition to a flower garden (above).
---
Organic Gardening ~ Community Gardens ~ Container Vegetables